This small size resort located in Calajoan Minglanilla Cebu is best for Barkada outing or Call center team building venue. This is because the place is small size for a team of 20 persons. It is secured with 3 swimming pool. It has facilities like basketball court and animal sanctuary. Its complete address is Lower Calajo-an Minglanilla, Cebu, 6046 Minglanilla, Cebu. Villa Ramelyn Phone number is (032)490-8163 / (032)490-4207.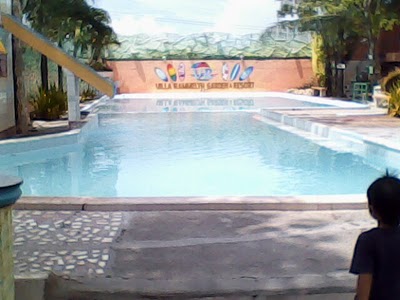 The pool in this photo is not for children. It is 6 feet deep and only good swimmer are allowed. This is best for team building activity or games like swimming race. The entrance fee is about P75 per person with discount on Children.
Since this is not a high end resort, you can expect the room rate between P800 to P1500 per day.
This is less than 4 feet swimming pool for your children. It guarantee safety and in fact no accident record in this resort.
So for those who wanted to relax with cold swimming pool at night then this is the best for you. Take the example from this cool small guy
Other resorts you can visit in Minglanilla is the highly populated Tubod Flowing Water