Titanium jewelry has become quite popular in recent years and now you'll find a wide range of men's and ladies styles available. Titanium offers a very contemporary look and practical benefits like comfort and durability. Titanium has a light gray metallic color and a can be finished with a reflective high polish or a subdued brushed finish. The metal is lightweight yet durable; which makes it great for someone who is very active. Titanium is hypoallergenic and will not cause skin irritations or reactions.
Titanium should not be confused with palladium or platinum, which are considered precious metals. The value of jewelry made in palladium or platinum is based largely on the actual metal content whereas titanium's value is based on the high costs of production. Titanium is an industrial metal and can be made using only the most sophisticated machining equipment and this equipment is very expensive. Titanium jewelry can be set with gemstones and diamonds however there are some limitations because the metal is not as malleable as the precious metals family.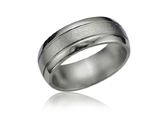 Titanium will scratch and dent very much like gold or platinum. Maintenance for titanium is the same as like any other jewelry metals; it can be polished and refinished to look new after it begins to show wear. Titanium jewelry can't be sized or soldered like gold, platinum, or palladium so when it breaks it pretty much becomes useless. Rings made in titanium can't be sized so when you choose a jeweler to buy a titanium ring from, be sure to ask what their policy is for resizing. Some people are concerned about how to safely remove a titanium ring when it needs to be cut off. Titanium can be cut off using the same tools that are used to remove precious metal rings.
Summary
Titanium is lightweight and durable
Titanium does not have precious metal content
Titanium can be refinished
Titanium rings can't be sized
Titanium rings can be cut off