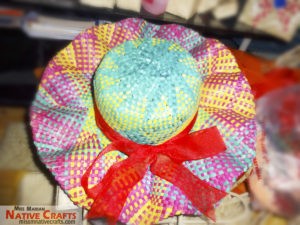 "Miss Marian Native Crafts" is based from Cebu, Philippines that sells Native and Handicraft Products that are made of Indigenous materials such as Rattan, Bamboo, Pandan Leaves, Buri Leaves and many more. Aside from selling them online and offline, Miss Marian Native Crafts also accepts orders to customize Native products for wedding giveaways, Souvenirs, gifts, corporate giveaways, Christmas giveaway boxes and bags and so much more.
The owner "Miss Marian" said that she is not only promoting the truly Filipino Products to local and foreign markets but also she is helping with her native local neighbors in her hometown to earn and increase their income. She said that weaving is one of their top sources of income aside from Farming. Giving them the chance to grow, earn more money for their daily's needs is one of her purposes.
Below are some of the sample native products customized and un-customized.
1.       Pandan Fan
2.       Bur hats
3.       Sewing kits
4.       Home and living native products
5.       Wall decors
6.       Native bags
7.       Native boxes
8.       Burlap
9.       Banig
10.   And so many more..
For more information, please visit her website:
www.missmnativecrafts.com
email: sales@missmnativecrafts.com
Facebook: http://www.facebook.com/MissMarianNativeCrafts
Browse more of our Products: http://missmnativecrafts.com
Tel. #: (032) 514-7502 or text or call: 09177927049