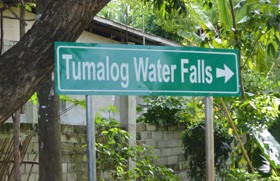 Tumalog Falls is located between Oslob and Boljoon. This is 3 hours drive from Cebu City.  You can ride Ceres (P150) bus from south terminal or ride a V-hire van also on the same place. If you are planning for whale shark watching this falls in Oslob Cebu is perfect complement.
From the highway, the falls is 3 kilometers away  with the use of either a private highly reliable vehicle or  habal habal or motorcycle ride. The road is very steep that i can say not for used cars. Better if the vehicle is 4 wheel driven SUV or Cars since the falls is located at the back of 3 mountains.
If you plan to visit this place and looking for freelance tourist guide then you can dial 0920 244 9658. This include transportation package which can pick your team from airport. We can also bring you in the newest, cleanest and high tech hotel in Cebu located in Ayala area.
As mentioned, the falls is located 3 kilometer and you will up with an average or 3 mountains. The exciting about this falls is the scenery once you reach the highest peak of the trip. Here you can see the road beside the first mountain.
At this part
There are many top vehicles that i think can endure the steepness like the Jaguar S Type vehicle or the Ford Fiesta SUV. No available parking on the lower part so stay on the top. Anyway if you ride habal habal then they will bring you even on the foot of the falls.
I have been in Badian Kawasan Falls and even in Barili Falls and i find that this is on the same caliber. Some of the foreigners who visit the Whale watching park in Oslob visit this area as their travel complement.
Actually while i am packing, a team of lifestyle magazine arrive and preparing for a photo sessions. I do not know if they are featuring the falls or just trying to promote the swimming suit  they are wearing.
VIDEO of the Falls